Petrin Observation Tower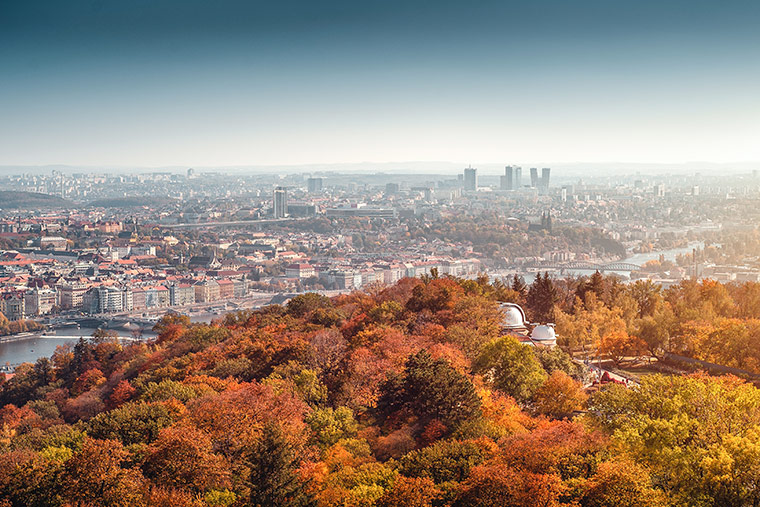 Petrin Observation Tower with 65.5 meters is a striking dominant of Prague's skyline. Thanks to its base at an altitude of 318 m, it offers one of the best views of Prague.
Petrin Lookout Tower was built in 1891 within an incredibly short period of just 4 months. The inspiration by the Eiffel Tower in Paris is unmistakable. Although the tower itself including the height of the antenna is about 5 times smaller than its French sister, Czech Petrin Lookout Tower including the hill wins by 20 meters in the total altitude. The observation tower was opened for the World's Jubilee Exhibition together with the Petrin funicular and the Industrial Palace at Prague's Exhibition Grounds. For about 40 years, it had also served as a television transmitter, until 1992, when the construction of the television tower in Žižkov was completed. Nowadays, the Petrin Observation Tower is part of the Prague Towers of the City of Prague Museum.
The lookout tower can be found in the Petrin Gardens boardering Prague's Mala Strana (Lesser Town) and Strahov districts. The best way how to get to the Petrin Tower is definitely the funicular. The funicular ride to Petrin hill is an experience itself and the beautiful view from the road is a pleasant bonus. Right next to the lookout tower you can also visit the Mirror Maze or the Stefanik Observatory.
The sixty-meter tall tower, weighing 175 tons, has two viewing platforms, lower one at 15 m, and the higher one at 55 m. There are 299 stairs to the top of the tower. The Petrin Tower offers a truly breathtaking view. Not only the view of Prague is right in front, but also a large part of the Czech Republic may be visible. When the weather is nice you can see Rip hill, Sumava and Krkonose mountains and even Snezka, the highest mountain in the Czech Republic.

How to get to the view Petrin Observation Tower
Public Transport
funicular Petrin
tram Ujezd (9, 12, 15, 20, 22, 23, 41, 97, 98, 99)
bus Koleje Strahov (143, 149)
bus Nemocnice pod Petrinem (194)
cycle route A32
Car (parking zones on en.mapy.cz)
See the map of all Prague viewpoints.
Plan your visit to Petrin Observation Tower
Opening hours
Open daily
January–March 10 a.m. – 6 p.m.
April–May 9 a.m. – 8 p.m.
June–September 9 a.m. – 9 p.m.
October–December 10 a.m. – 8 p.m.
Admission
General 150 CZK
Official website
prague.eu/en/petrin-lookout-tower
Virtual tour
petrinska-rozhledna.muzeumprahy.cz