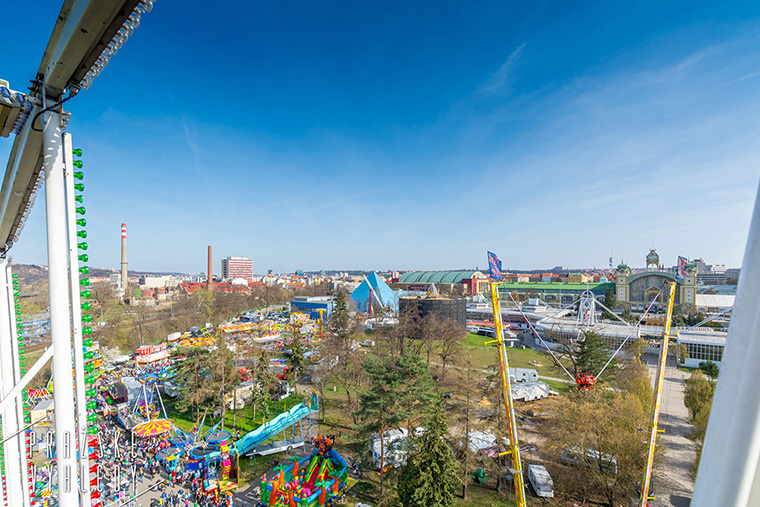 The Ferris Wheel had been spinning for 29 years at the Prague Exhibition Grounds and enabled its visitors a unique view of Prague.

Prague Exhibition Grounds is cultural heritage area of 36 hectares, situated on the edge of the park Stromovka. The magnificent Art Nouveau Industrial Palace, built on the occasion of the Jubilee Czech Exhibition in 1891, is one of the most remarkable landmarks. Other well-known objects – Krizik's Fountain or Lapidarium of the National Museum – were built for the same event. You can also visit in this area Marold's Panorama of the Battle of Lipany, the planetarium, the sea world, the great and small sports hall, the theater, the swimming pool and the amusement.
Matejska pout (St. Matthew's fair) is held here every year in spring and Vaclavska pout (Wenceslas pilgrimage) is held here in autumn. Matejska pout has a very long history, its tradition dates back to 1595. Over time, its religious focus has turned into purely amusement. Over the years, its location has also changed from the original Hanspaulka via Vitezne namesti and Hradcanska to Prague Exhibition Grounds in Holesovice district. 57th year should have taken place this year. Several attractions were available here year-round. These included the 35-meter-high Ferris Wheel or the Giant Wheel, which has 24 wagons along its perimeter and had been in operation since 1989. Due to the revitalization of Prague Exhibition Grounds and opening its space for public, the Ferris Wheel was disassembled in 2018. Luckily, it should be back in the future even though only temporarily for Matejska pout.
The oldest attraction of this type is the Ferris wheel in the Prater park in Vienna, which was put into operation in 1897 and reaches a height of almost 65 meters. The tallest wheel in the world is The High Roller in Las Vegas opened in 2014 with a dizzying 168 meters. However Dubai is trying to win the first place as their Dubai Eye is currently under construction, which is supposed to be an unbelievable 210 meters high and should open in 2020 after 5 years of construction.
From the revolving wagon of the Prague Feris wheel you can observe not only the Matejska pout and the whole area of the Prague Exhibition Grounds. Across the river you can see Troja Castle and above it is the vineyard of St. Klara and and not far up the river there is also the new Troja Bridge. On the other side, behind the Stromovka park, there is the Letna district. Like most of the views, you can see the Zizkov transmitter and in the highest part of the view there are also visible the towers of the Chram sv. Vita (St. Vitus Cathedral) at Prague Castle.
How to get to the view Ferris Wheel
Public Transport
tram Vystaviste Holesovice (6, 12, 17, 41, 93, 94)
metro Nadrazi Holesovice (red line C)
bus Nadrazi Holesovice (112, 156, 201)
train Praha-Holesovice, Praha-Bubny
cycle route A1, A162, A165, A310
Car (parking in Holesovice, near Tipsport Arena, street Za Elektrarnou, parking zones on en.mapy.cz)