Prague Metronome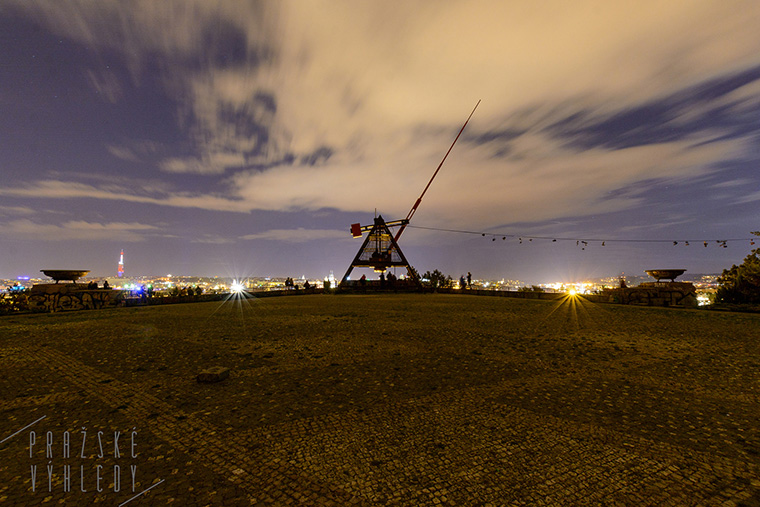 Prague Metronome, Pendulum on Letna, the Stalin – these are all names for a place in Letna Park with a beautiful view of Prague.

There used to be a famous monument to Stalin until 1962 when it was demolished after 7 years of its existence. On the pedestal of the monument, there are still extensive underground spaces that were originally supposed to serve as a museum of J. V. Stalin. However, due to very poor technical conditions, the underground remains closed.
Now the pedestal serves as a place for a piece of art by sculptor Vratislav Novák called Time Machine, the aforementioned pendulum or if you please, a metronome. The arm of the machine, almost 25 meters tall, swaying deliberately over the Svatopluk Cech Bridge and the embankment of Edvard Benes, is setting the bar for Prague and its visitors.
On the way to the viewpoint, you will meet young hopeful and steadfast skaters, who again and again venture into attempts to perform more or less complex tricks, while falls won't stop them. But once you get under the pendulum itself, everything around ceases to exist and you will remain enchanted by the far view of the beautiful city of Prague. You'll admire the Vltava River and all the beautiful bridges that complement its atmosphere. On the opposite side, you'll see Dvorakovo nabrezi (embankment) and the Old Town and a plethora of towers and turrets that adorn it. You can observe the pleasant city bustle on the waterfront road, on tracks and on the river; no matter day or night.
Top views of Prague. Prague Metronome or Pendulum on Letna – these are all names for a place in Letna Park with a beautiful view of Prague.
How to get to the view Prague Metronome
Public Transport
tram Cechuv most (15, 17, 41, 42, 93)
tram Chotkovy sady (2, 12, 18, 20, 97)
tram Sparta (1, 8, 12, 25, 26, 41, 91, 96)
metro Hradcanska (green line A)
cycle route 7, A155, SM-LE
Car (parking on Letna, Chotkovy sady, Dvorakovo nabrezi, parking zones on en.mapy.cz)
See the map of all Prague viewpoints.