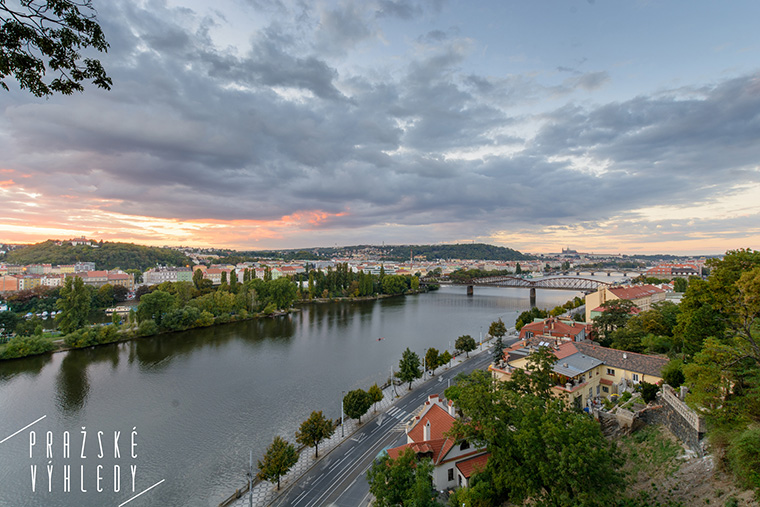 Two dark neo-gothic towers of St. Peter and Paul Basilica on Vysehrad hill are an inseparable dominant of the Prague skyline. Towering over the right bank of the Vltava River, the Vysehrad hill offers breathtaking view of Prague.
Vysehrad – a place that is linked to many legends and rich history, is the National Cultural Monument of the Czech Republic. The chimes of St. Peter and Paul's Basilica plays every hour one of the dozens of songs they have in their repertoire, such as Ach synku.
On top of that, the most eminent Czech personalities are buried at the Vysehrad Cemetery. For example composers Bedrich Smetana and Antonin Dvorak, writers Karel Capek or Jan Neruda, actor Jan Werich and other important persons of Czech cultural history.
If we walk along the walls, we can enjoy the view literally in all directions. In the direction to Podoli along the Vltava River, we can see the Cukrak transmitter on the city's border. In the other direction, the Vltava's stream will take us to Prague Castle. The view from the other side of the Vysehrad area is dominated by the Nusle Bridge over the Nusle Valley.
"I see a great city the glory of which touches the stars."
– Libuse's Prophecy, Old Czech Legends, Alois Jirasek
How to get to the view Vysehrad
Public Transport
tram Vyton (2, 3, 7, 17, 92)
tram Podolska vodarna (2, 3, 17, 92)
tram Albertov, Ostrcilovo namesti (7, 14, 18, 24, 93, 95)
bus Podolska vodarna (134)
metro Vysehrad (red line C)
ferry Vyton (P5 from Cisarska louka or Naplavka Smichov)
cycle route A2, A23, A220
Car (parking on Vysehrad, Vyton and Nusle (street Marie Cibulkove and surroundings), parking zones on en.mapy.cz)