Vitkov Hill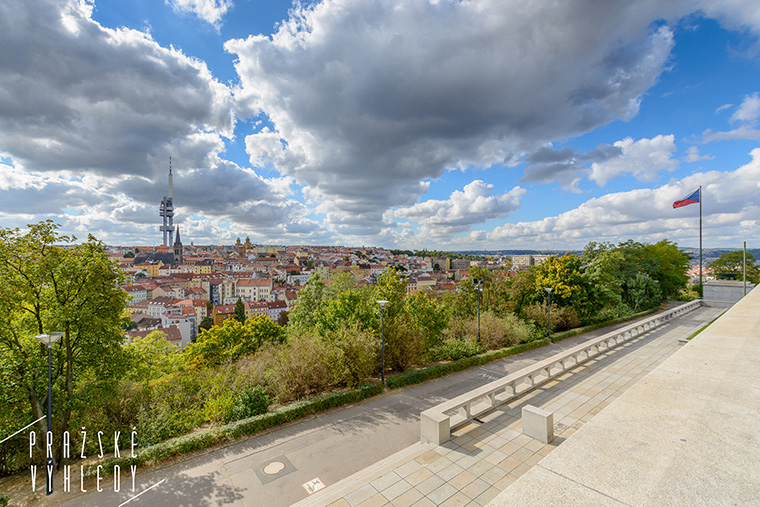 One of the largest equestrian statues in the world dominates Prague on the Vitkov Hill. And you can enjoy the same view as the bronze statue of Jan Zizka of Trocnov has had for over 60 years.
The Vitkov Hill, 270 m high, became the scene of the famous battle during the Hussite wars in the 15th century. Back then, the Hussites defeated Crusader troops here.
The battle is commemorated by the majestic and elaborate sculpture of the Hussite commander by sculptor Bohumil Kafka. Additionally, the grave of an unknown soldier is hidden under the statue's pedestal. The grave is covered with a huge granite slab bearing the inscription "Glory to heroes fallen for their homeland."
On the Vitkov Hill dividing the Prague districts of Zizkov and Karlin is also an impressive functionalist National Memorial on the Vitkov Hill, which is part of the National Museum. We will take a closer look at that (more specifically from the platform there) in one of the next articles.
This place is bursting with national pride. Celebrations of the establishment of independent Czechoslovakia or acts to commemorate the end of World War II take place here.
If we look in the same direction as the sculpture, there is Florenc directly below us and in the distance on the opposite bank of the Vltava River we can see Strahov. On the left side we have a breathtaking view of the Zizkov district with the prominent Zizkov transmitter and the Church of Sts. Prokop and also Vinohrady district with Riegerovy sady (Rieger Gardens).
How to get to the view Vitkov Hill
Public Transport
bus U Pamatniku (133, 175, 207, 908, 909)
bus Tachovske namesti (133, 207, 908, 909)
metro Krizikova (yellow line B; then go through Zizkov tunnel from Karlin to Zizkov)
cycle route 1, A25, A421
Car (Zizkov, Florenc, Karlin, parking zones on en.mapy.cz)
See the map of all Prague view points.