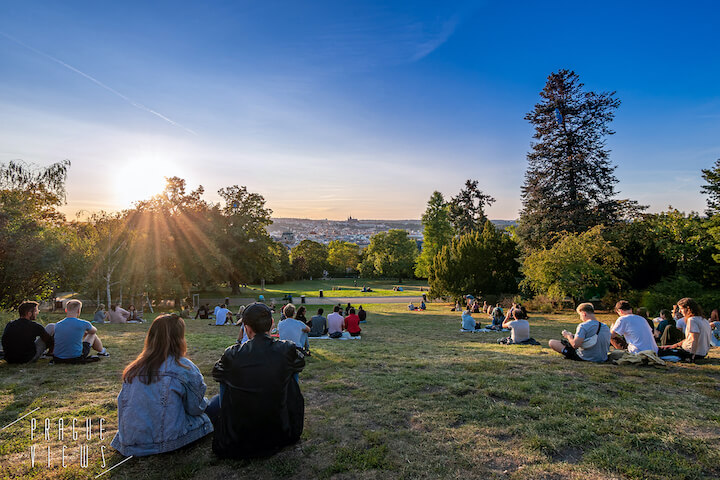 One of the best places to watch the sunset over Prague Castle is undoubtedly the Rieger Park in Vinohrady.
The park was founded in 1902 and is named after the Czech politician F. L. Rieger, whose bronze monument is at the entrance. The Rieger Gardens are just a few minutes walk from Vaclavske namesti (Wenceslas Square). From the northern part it neighbours with Prague district Zizkov. In the park you can find cosy pub Mlikarna, which has a roof terrace with beautiful views. Unfortunately, very popular beer gardens were closed due to disputes between the foreign owner and the city. It was a pleasant surprise that they were reopened in spring 2020.
Rieger Gardens or Rieger Park (Riegrovy sady in Czech) is an ideal place for both relaxation and outdoor sports activities. You can jog, cycle or workout in the outdoor calisthenics park. Families with children will find a beautiful playground here. In the park there is also the building of Sokol Kralovske Vinohrady with athletic oval, gym and public 25m swimming pool.
However, this place is most famous for breathtaking sunsets. The park's slope offers amazing view of Mala Strana (Lesser Town) facing directly the Prague Castle. In the evening it turns into a huge outdoor cinema. But do not look for any movie screens here; the main show is outright on the sky.
How to get to the view Rieger Gardens
Public Transport
bus Na Smetance (135)
tram Italska (11, 13)
tram Vinohradska trznice (11, 13)
metro Muzeum (green line A and red line C)
cycle route A24
Car (parking zones on en.mapy.cz)