Sedlec Rocks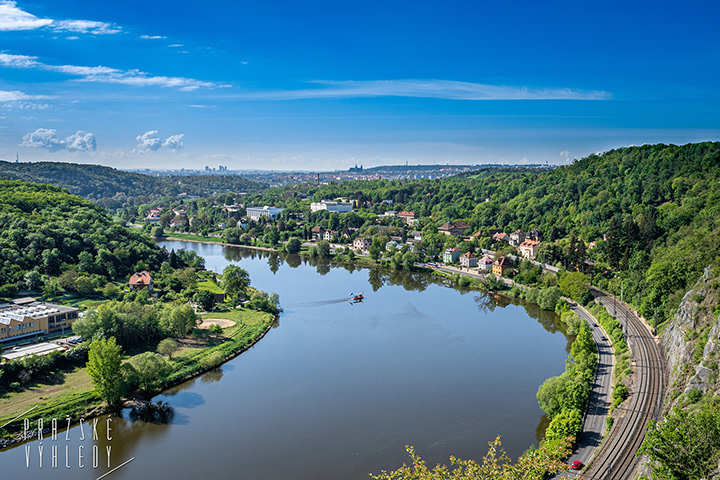 The natural reserve Sedlec Rocks (Sedlecke skaly) on the left bank of the Vltava River, located on the border of Prague's Sedlec and Suchdol districts, is a great place to go for a beautiful view, while learning something about the local species of plants and animals.
In the northern part of Prague, the valley of the Vltava River is surrounded on both sides by high cliffs. On the left bank of the Vltava, above the railway line, Sedlec Rocks rises. The Sedlec lookout on the top of the rocks opens an amazing view of the Prague panorama.
The natural reserve Sedlec Rocks with an area of 7.5 ha lies on the border of the Prague districts of Sedlec and Suchdol. The magnificent rock parade, where the ridges of the rocks alternate with the gorges, is an ideal environment for various protected and endangered species of plants and animals. An educational path will take you through the local fauna and flora. You will learn, for example, that traces of settlement in the area date back to the Stone Age.
In the southern part of the Sedlec Rocks, forested areas with maples and oaks predominate. In contrast, in the northern part with rock galleries you will find more shrubs and grasses characteristic for the steppe landscape. The bottom of the rocks are inaccessible gorges overgrown with bushes, which line the railway. The railway track continues through Roztoky and Libcice to Kralupy nad Vltavou and further north.
A quiet view on the top of Sedlec Rocks will allow you a distant view along the Vltava riverbed and the hills that surround it. Directly below you, the ferry commutes between the Sedlec and Zamky districts on the opposite bank. The ferry will take you under the Bohnice Podhori, where you can go to admire the view from the opposite rocks.
How to get to the view Sedlec Rocks
Public Transport
bus Internacionalni (107, 147, 160, 359, 909)
ferry P1 Zamky–Sedlec
Cycle Route A181
Car (parking zones on en.mapy.cz)
See the map of all Prague view points.