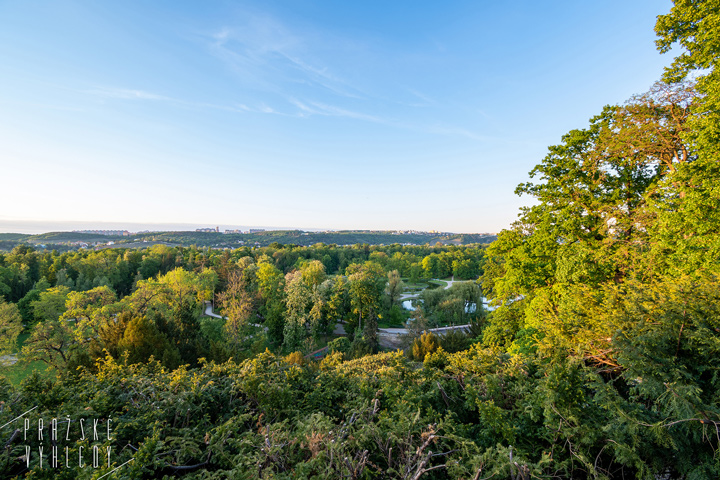 The stately Governor's Summer Palace in the Royal Game Reserve in Prague 7 will please not only passionate historians, but also fans of beautiful views.
The magazine department of the Library of the National Museum is located in a summer house towering over the Royal Game Reserved, nicknamed Stromovka. There are specialized workplaces, a study room and depositories. Originally it was a royal hunting lodge under the direct administration of Prague Castle, with which it was connected by a chestnut alley. Although the alley was cut down by French troops during the occupation of Prague in 1742, it was later restored and copies the current Pod Kastany Street.
From the original Gothic castle from the 15th century remained only the tower with a staircase and a sculpture of a lion. The Summer Palace got its  Renaissance appearance of during the reconstruction at the end of the 16th century. Another wing inspired by English Neo-Gothic style was completed in 1804–1805, when the Royal Game Reserve was also opened to the public. The building was to serve the highest burgrave, and from 1849 it was lent to the highest royal governors, provincial administrators, for summer use.
The Governor's Summer Palace has an outdoor lookout terrace directly above Stromovka, from which there is a great view of the entire park and the northern part of Prague on the opposite hills. Directly below are the original and new water areas, which were built during the revitalization of the Royal Game Reserve in 2015–2017. On the horizon are the districts of Troja and Bohnice, where you can visit another beautiful view Podhori. The lookout terrace of the summer palace is decorated with a sundial in the form of a stone globe from 1698.
How to get to the view The Governor's Summer Palace
Public Transport
bus Sibirske namesti (108, 131, 907)
tram Korunovacni (1, 8, 12, 25, 26, 91, 96)
tram Hradcanska (1, 2, 8, 18, 20, 25, 26, 91, 96, 97)
metro Hradcanska (green line A)
Car (parking zones on en.mapy.cz)
See the map of all Prague view points.