Central Telecommunication Building CETIN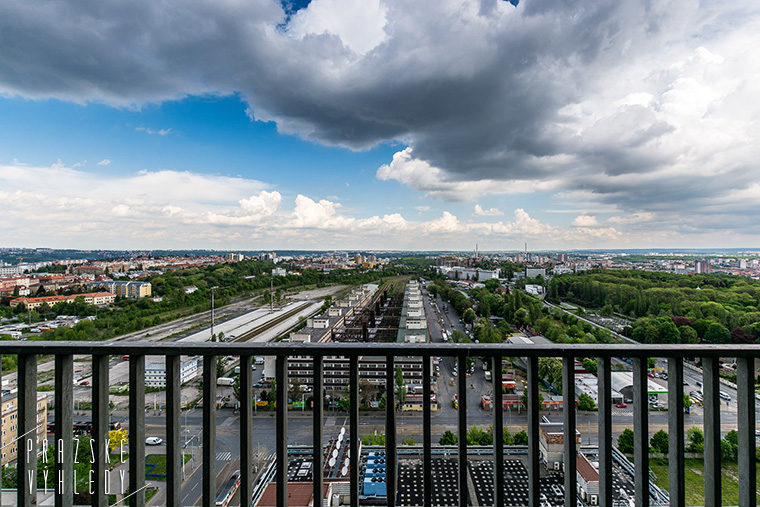 The tower of the CETIN Central Telecommunication Building is a significant element of Zizkov. The view from the 85 m high tower allows an unconventional view of, for example, the Zizkov freight railway station.
The CETIN building with the full name Central Telecommunication Building is located in Prague 3 on the border of Zizkov and Olsany. It was built in 1972–1979 as a complex of nine-storey technological and administrative buildings and high-rise tower. At the time, it was the largest building in Czechoslovakia and the largest telecommunications building in Europe. However, this object also held the leading position in the technological field. With its technical equipment, it ranked among the world's best.
The height of the characteristic radio relay tower had to be adapted to the nearby military airport and was thus limited to even respectable 85 m. The last owner of the building, CETIN company, which took it over from the previous operators O2 Telefónica and Telecom, has been already moved to new premises in Liben, Prague. The new owner intends to build a residential project here on the basis of an architectural competition, which was won by a design by architect Eva Jiricna. The Central Telecommunication Building will have to give way to this new project and should be demolished in 2022.
From the tower is an amazing and distant view of the surroundings. It allows an unconventional view of the neighboring freight railway station and the Zizkov Television Tower. Unfortunately, there will probably not be much opportunity to look from the 85 m high tower. We will see if the building will be part of the Open House Prague festival program this year as well.
How to get to the view Central Telecommunication Building CETIN
Public Transport
tram Nakladove nadrazi Zizkov (5, 9, 10, 13, 19, 26, 95, 98)
bus Mezi hrbitovy (133, 267, 908, 909)
Car (parking zones on en.mapy.cz)
See the map of all Prague view points.