Lesser Town Bridge Tower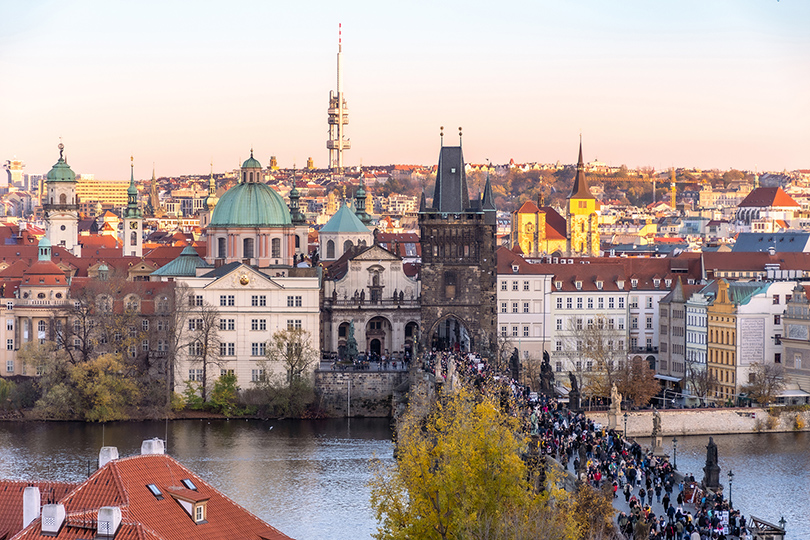 The Lesser Town Bridge Towers are two stylistically different Prague towers. Each tower has different height and they are connected by a gate. Together it forms the entrance from Charles Bridge to Lesser Town to Mostecka Street.

Charles Bridge is on both sides ended with bridge towers. On the western side on the Lesser Town bank stand the Lesser Town Bridge Towers – a pair of towers that are connected by a gate leading to Mostecka Street. The whole complex consists of the oldest lower tower, a Gothic gate and a higher tower, which is the newest element on Charles Bridge.
The history of the lower Romanesque tower dates back to the 12th century, but it has had its current appearence in the Renaissance style since 1591. The older tower is also called Judith's Tower because it was part of Judith's Bridge, which was destroyed by floods in 1342 and replaced by Charles Bridge.
The appearance of the higher tower is inspired by the Gothic style of the Old Town Bridge Tower. It doesn't carry so many decorative sculptural elements, although they were originally intended. It was built in 1464 on the site of an older Romanesque tower built together with a lower tower. The tower served as a warehouse and a fire alarm. Today's look of the tower, designed by architect Josef Mocker, dates back to 1879–1883. The tower is 43.5 m high and from the public observation deck at a height of 26 m there is an amazing view of the Vltava and the historical part of Prague.

How to get to the view The Lesser Town Bridge Towers
Public Transport
tram Malostranske namesti (12, 15, 20, 22, 97)
bus Malostranske namesti (194)
metro Malostranska (green line A)
Cycle route A1
Car (parking zones on en.mapy.cz)
See the map of all Prague view points.
Plan your visit of The Lesser Town Bridge Towers​
Opening hours
Open daily
January–March 10 a.m. – 6 p.m.
April–May 10 a.m. – 7 p.m.
June–August 9 a.m. – 9 p.m.
September 10 a.m. – 7 p.m.
October–November 10 a.m. – 6 p.m.
December 10 a.m. – 8 p.m.
Admission fee
General 150 CZK

Official website
prague.eu/lesser-town-bridge-towers