Tresnovka Hill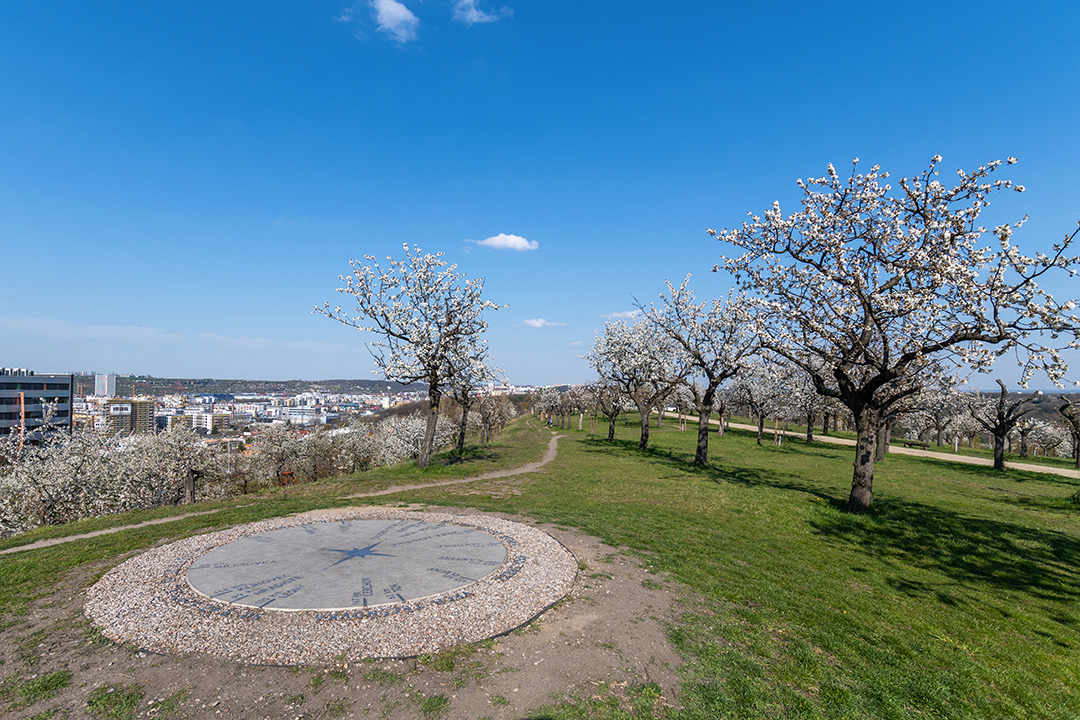 Tresnovka Hill in the Hrdlorezy district of Prague is an ideal place for a walk among the fruit trees and also for a beautiful view.

The history of the Tresnovka Hill dates back to the period after the Second World War, when a cherry orchard was established here in the places of pastures, fields and meadows. The natural ridge of the hill used to be used for defensive military purposes. The remains of a light bunker were in the orchard until revitalization in 2015. The orchard was used economically until the early 1990s with the last controlled harvesting of cherries in 1992. After that, the place began to overgrow and fade. Extensive revitalization in 2015 completely cultivated this place. The accumulated tens of tons of waste were removed from here, the footpaths were restored and old and non-fruiting trees were replaced by newly planted cherry trees.
The 10-hectare cherry orchard has 1,500 fruit trees, and around 420 new trees have been planted during the revitalization. The vast majority of them are cherries, but in addition, several apple and pear trees are planted here as well. During the restoration of the orchard, torsos of old cherries were taken care of and intentionally left there to serve as a shelter for many species of insects, invertebrates and birds. A mixed flock of sheep and goats regularly graze in the orchard, which maintains the local grasses in a natural and beneficial way.
Tresnovka Hill is an ideal place for a spring walk among blooming and beautifully scented cherries. If you come here at the turn of spring and summer, you can pick cherries on the original cherry trees. Newly planted trees during revitalization have not yet been bearing cherries. However, the beautiful view is always present.
A lookout point with a compass rose shows directions and distances to the highest Czech mountains. It was created in the place of the buried light bunker. The view in front is directly to Vysocany district and is dominated by high-rise buildings such as Residence Eliska – the second tallest residential building in Prague, and the former Sazka company headquarters – building with square floor plan, roof greenery and a glass pyramid roof atrium. In the distance on the opposite slope are the Prague districts of Kobylisy, Strizkov, Prosek and Letnany.
How to get to the view Tresnovka Hill
Public Transport
bus Balkan (109, 177, 182, 183, 195, 903)
bus Spojovaci (109, 146, 177, 182, 183, 195, 903)
bus Na Lukach (146)
tram Spojovaci (1, 9, 11, 98, 109)
train Praha-Liben (S1, S4)
cycle route A25
Car (parking zones on en.mapy.cz)
See the map of all Prague view points.