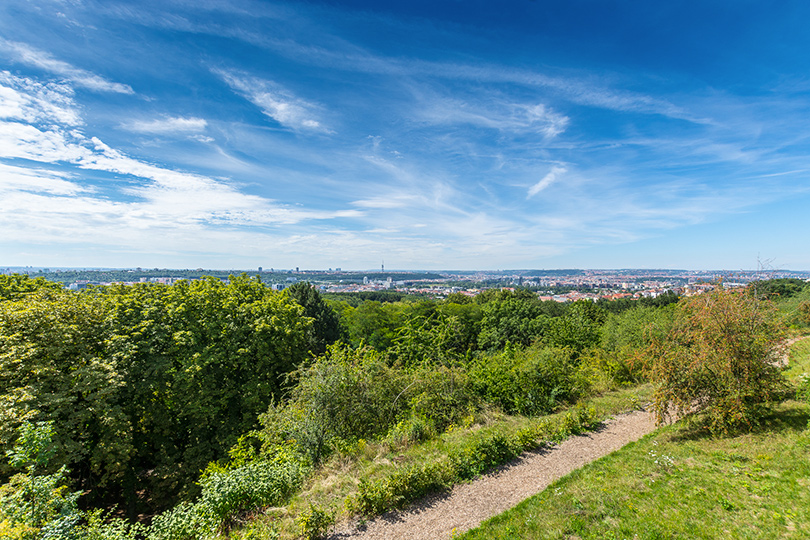 Viewing platform made of stones on the top of Prosek Rocks is a great place to relax in nature in the middle of the city and also to enjoy the view of the Prague skyline.
The natural reserve Prosek Rocks (Prosecke skaly) is located on the border of the Prosek, Liben and Vysocany districts of Prague. There is a great system of underground spaces inside the sandstone rock, that were created during sand mining. The most extensive ones were left behind by Hampl's sand pit (later called Klik's sand pit). Today, these areas are better known as Mocalka, because they were repeatedly flooded due to a broken sewer. Although there has been some plans to cultivate to make these underground places accessible to the public, they remain closed.
A blue hiking trail leading from Kobylisy to Malesice will take you to the Prosek Rocks viewpoint. There is also an educational trail from Vysocany through Prosek to Strizkov, which will tell you more about the history of this originally agricultural area. It is interesting that the underground of the Prosek Rocks has become home to several endangered species of bats.
The viewing platform was opened in the spring of 2016 and will offer you a beautiful and far view. The platform consists of stones secured by a wire structure and is accessible by a footbridge made of steel grate. A wide staircase leads between the two viewing platforms. Nearby is also the Emma Destinova's natural viewpoint and viewpoint near the Bobsleigh track.
How to get to the view Prosek Rocks
Public Transport
bus U Kundratky (151)
metro Prosek (red line C)
cycle route through street Na Vyhlidce
Car (parking zones on en.mapy.cz)
See the map of all Prague view points.