Nebusice viewpoint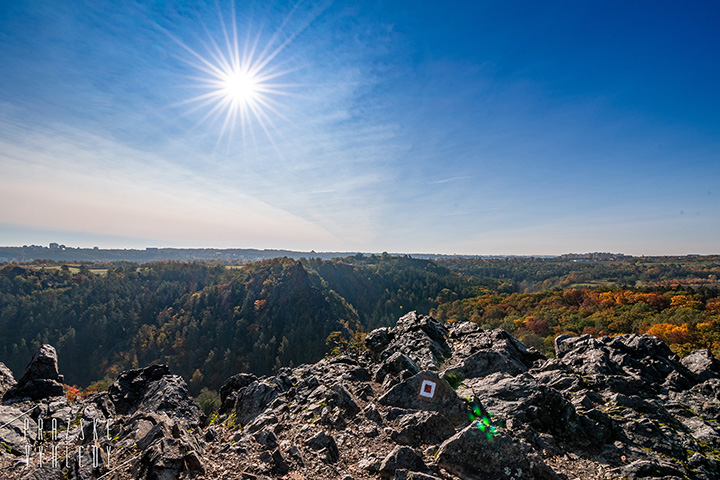 Nebusice viewpoint is located on the edge of the rocky natural reserve Divoka Sarka, which is one of the largest parks in Prague.
Divoka Sarka in Prague 6 is a popular place to go for breathtaking nature and still stay in the capital city of Prague. Over 1.2 million visitors come here every year. This natural reserve is an ideal place to go for a walk, bike ride, rock climbing or swimming in one of the local swimming pools.
There are two theories where the name Divoka Sarka comes from. One of them is based on the well-known legend of the Old Czech legends by Alois Jirasek The Maidens' War about Sarka and Ctirad. According to the second theory, the name Sarka comes from gray (which is sery or sary in old Czech) forests. Archaeological discovery indicate the presence of humans in this area as early as the Paleolithic or Early Stone Age.
In order for a beautiful and distant view of almost the entire Divoka Sarka to open before us, we have to go to its northern part near the Nebusice district of Prague. It was an independent municipality until 1968, when it joined Prague. The Nebusice viewpoint is located on a rocky hill above the Sarka valley, through which the Sarka stream flows.
The Nebusice viewpoint is dominated by a distinctive rock formation on the opposite side of the valley called Divci skok (Maiden's Jump). It is the highest peak of the whole Sarka, it forms its natural dominant and it is also called the Crown of Sarka. It was from here that Sarka was supposed to jump according to Jirasek's legend. From the rocky lookout there is a beautiful view of the Liboc district, which is largely made up of park and natural reserve Divoka Sarka or Hvezda. We can also see the top of letohradek Hvezda (the Hvezda summer house). On the left, the view will take us to the Zizkov Television Tower. On the horizon we can also see the area of the Stresovice Central Military Hospital. When viewed on the right, the Dedina housing estate emerges from the horizon.
How to get to the view Nebusice viewpoint
Public Transport
bus Nebusice (116, 161, 312, 907)
cycle route A34, 0078
car (Pod Hjovnou street en.mapy.cz)
See the map of all Prague viewpoints.