Experience the Royal Splendor: Bohemian Crown Jewels Exhibition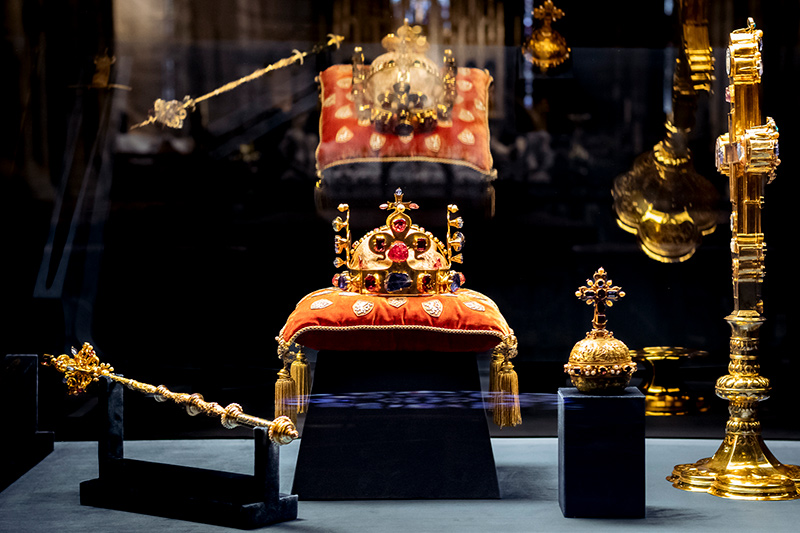 The Bohemian Crown Jewels were on display in St. Vitus Cathedral on the occasion of the 30th anniversary of the Czech Statehood. We finally got to see the Bohemian treasure of priceless historical value after a long 5-year wait. The last time they were shown to the public was in January 2018, when Czechoslovakia celebrated its 100th anniversary.
The Bohemian Crown Jewels are officially recognized as National Cultural Monuments and have become a rare symbol of Czech statehood. The St. Wenceslas Crown, including a casket and cushion, the Royal Sceptre and its casket, the Royal Apple and its casket, the Coronation Cloak, and other pieces of attire including a belt, a maniple (an ornamental band worn on the left arm of the Eucharistic celebrant), a stole, and an ermine collar. A ring, golden bracelets, and a crystal vessel for holy oil were also included in the Middle Ages.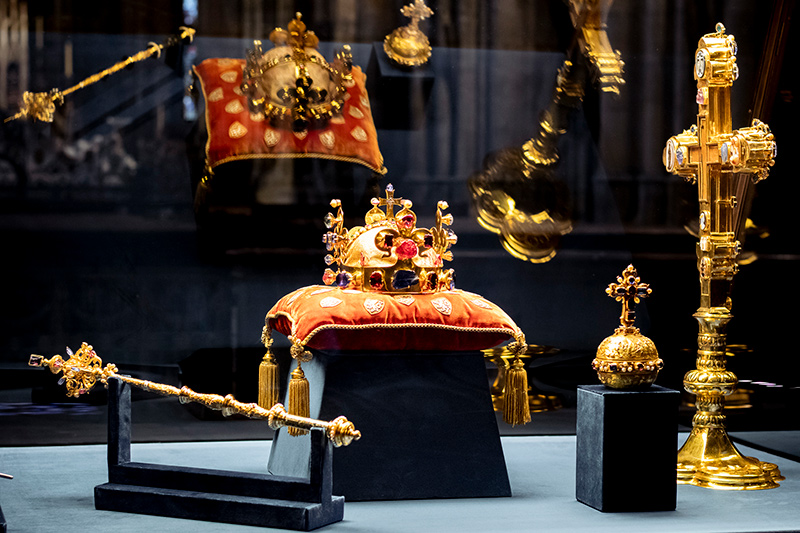 Of course, the most valuable part is the St. Wenceslas Crown. Charles IV had it made for his coronation in 1347 and dedicated it to the first patron saint of the country, St. Wenceslas.
The skull of Saint Wenceslas, the patron saint of the Czech nation, was also exceptionally displayed in the cathedral's Saint Wenceslas Chapel. You could also see an image of his hypothetical appearance based on anthropological research.
The Bohemian Crown Jewels are rarely displayed. After the first exhibition in 1929, this year's display was only the 15th opportunity to see them.
The jewels are safely stored behind seven locks in the Crown Jewels chamber of Saint Vitus Cathedral. To gain access to the Royal Crown, Royal Orb, and Royal Sceptre, seven key holders must be summoned: the Czech Republic's President, Prime Minister, Prague Archbishop, both Parliamentary Speakers, the Dean of the Cathedral, and the Lord Mayor of Prague.
King Leopold II established the tradition of the seven keys in 1791 when he agreed to return the jewels from Vienna to Prague at the wish of the Czech Estates.
The Bohemian Crown Jewels display is always popular with the general public. And it's no surprise. Seeing this national treasure in person is truly a magical experience that words cannot describe. If you are fortunate enough to be in Prague during an exhibition, do not hesitate to visit it.
The entrance is free, but there is usually a long line that lasts two to seven hours. I recommend going on a weekday early in the morning, about an hour before they open. Following that, I only had to wait an hour to get to the cathedral. On top of that, I got to see a beautiful sunrise view from the gardens of Prague Castle.